what Frank is listening to #30 – PIPER – Self Titled – (A&M) – 1976
I put this on (and recall buying it) with some trepidation … Piper were the band that launched Billy Squier. Admittedly I only knew the Billy Squier singles and I wasn't impressed overly though the head thumping dumbness of "The Stroke" is endearing in a brain dead way.
I didn't really know what to expect here … bad 70s rock, stadium rock, hard rock?
I was surprised, and

I will have to admit

, Piper

are better than a lot of their contemporaries

. T

heir rock is certainly "rock" and not Mr Sheen-ed over

too much

but, and its a big 'but", how much of this can one listen to?
"Out of Control" –

The first track

,

a nice bit of Rolling Stones swagger.

"Who's Your Boyfriend" – Buddy Holly and power pop goes hard rock.

"Telephone Relation"

"The Last Time" – yup, the Stones song (and the only non Squire written track on the LP) … and a credible version.
Though, can you truly "accept"a band who look like this?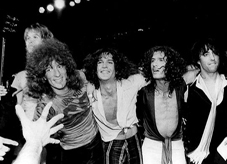 I'll tape a couple and sell the LP.
(originally posted: 19/05/2009)