what Frank is listening to #5 – BLOODROCK – Blooodrock 2 – (Capitol) – 1970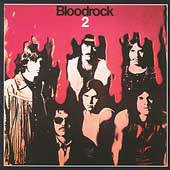 The wet weather is keeping me indoors a lot.

Another one.
Allmusic describes this band best:
allmusic: "Bloodrock was an early '70s hard rock band from Fort Worth, TX, led by singer/drummer Jim Rutledge for the first LP. They charted with six albums between 1970 and 1972 and scored a Top 40 hit with the morbid "D.O.A." from their second, gold-selling LP, Bloodrock 2".
Yup … its definitely "hard rock" … like an American version of "Deep Purple". Coming from Texas I thought there may be some country, southern or roots influences … but, certainly, there is nothing like that on this LP. At times they sound like Grand Funk Railroad (though that's not surprising as they are mining the same field and use the same producer – Terry Knight) albeit with darker lyrics.

There are (also) some "Black Sabbath" overtones here. Apparently their first album was full of the dark and ominous music and imagery.
All of the tracks (there are eight in total) clock in at over 4 mins each … and there is a lot of whaling and hard rock angst.
A pop band this aint … you know it wouldn't surprise me if Henry Rollins has this in his record collection … seriously.

The best track is the single "DOA" which, in graphic detail, recounts the last thoughts of a car or plane-crash victim … and it clocks in at 8 mins 25 seconds !!
Read wikipedia if you want the full story on the track "DOA"… http://en.wikipedia.org/wiki/Bloodrock

And, there has to be a influence on someone in the first generation grunge movement … I can see this LP appealing to slack jawed, flanno wearing youths in the US midwest … bless them.

The other good tracks are "Lucky in the Morning", "The Cheater", and "Children's Heritage".

here's the single
http://www.youtube.com/watch?v=WzUpVyOdXek
and a live clip of "Lucky in the Morning"
http://www.youtube.com/watch?v=eMTQt_bAOPc&feature=related
and "Children's Heritage"
http://www.youtube.com/watch?v=z-exIk0J9qc&feature=related
4 tracks out of 8 are good … I'm not sure the album is a keeper …. then again … tmaybe it's for the maybe pile ….
(originally posted: 12/04/2009)